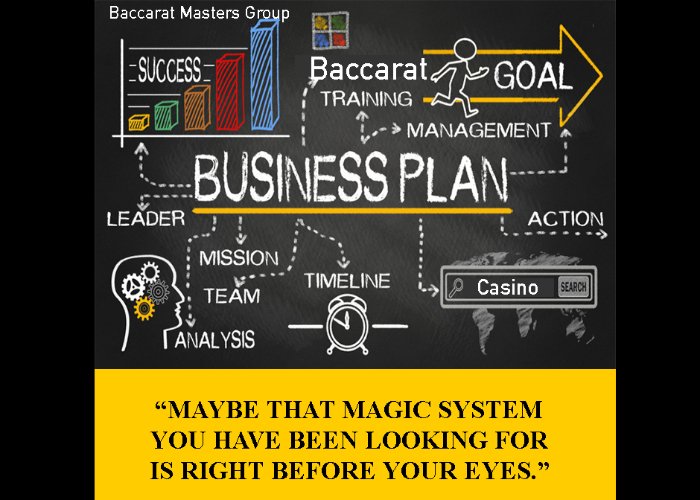 The next time you sit down at a Baccarat table, online or offline, consider this: the table you are sitting at is owned by someone, it is their BUSINESS. They own it, operate it, pay all of the expenses to keep it open, staff it, and they do so to produce a profit.
"A business is defined as an organization or enterprising entity engaged in professional activities." The Baccarat table you are sitting at is a "professional" for-profit business entity.
The term "business" also refers to the organized efforts and activities of individuals to sell goods and services for profit. In this regard the casino sees you as a CUSTOMER. In their eyes you are there to spend money, not earn money.
And there you have The Business Of Baccarat in just a few words. PROFESSIONALS OPERATE THEIR BUSINESS FOR PROFIT, CUSTOMERS GO INTO BUSINESSES TO SPEND MONEY.
In other words, anyone sitting at any Baccarat table in the world who is not being a professional for profit BACCARAT BUSINESS OWNER is just another CUSTOMER. And that is OK, if you happen to enjoy the glitz and glamour of spending a few hundred, or few thousand dollars in casino.
But it is death-in-a-basket for any player who wants to earn consistent profits as a Baccarat player. That player has to make a decision and get ready to live by that decision: I am happy being a customer – I am a business-minded professional player – that's the game-changer.
Even if you are a casual player who just wants to earn some extra money - if that activity is not run like a for-profit business then you might be wiser to just go shopping and spend some money in another business establishment, like a fine dinning experience or buy a painting from a struggling artist. The RETURN ON INVESTMENT will be far more rewarding.
THE CUSTOMER vs THE PROFESSIONAL
A professional Baccarat businesses begins to take shape after the development of a Business Plan which is a document detailing your business's goals and objectives, and its strategies of how it will achieve the goals and objectives. Business plans are essential when it comes to raising or utilizing CAPITAL of any kind to fund operations.
A good business has a good plan, the CAPITAL, the KNOW HOW, and the determination to do it successfully. And that is what Baccarat Masters Group and Training is all about.
Some individuals want to keep looking for that magic "system" that you read in 15 minutes and become a consistent, winning player at the $100 - $1000 tables.
Others are wise enough to consider this simple logic: IF CASINOS KEEP GETTING RICHER RUNNING THEIR BUSINESSES LIKE PROFESSIONAL, BUSINESS OPERATORS, THEN MAYBE – JUST MAYBE THAT MAGIC SYSTEM YOU HAVE BEEN LOOKING FOR IS RIGHT BEFORE YOUR EYES:
Be a Profession Baccarat Business Operator, and never a Customer ever, ever again!
E. Laurence Bake
c. 2020