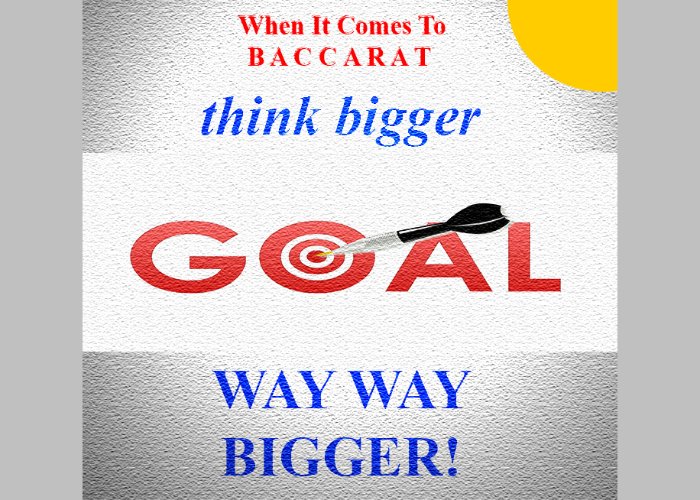 I have made an interesting discovery about baccarat players and PROFIT recently. And I thought it might have something to do with you and what you are trying to do as a player.
I won't make you wait for it. I'll just say it right upfront and let you decide if it speaks to you personally:
95% OF THE BACCARAT PLAYERS PLAYING TODAY HAVE THEIR FINANCIAL GOALS SET WAY, WAY TO LOW.
If you have a goal to earn $100 or $1000 a day then that goal may be what is stopping you from achieving what you really want. That goal may be way too low - it may not be the INCORRECT TARGET for you.
It's like someone shooting a high-powered rifle at the barn door, but always aiming their sights on the trees beside the barn. They want to hit the door but they keep aiming for the tree. So it's no wonder they never quite achieve what they want to achieve. They are aiming at the incorrect target.
Before long that can get very confusing.
So how do we put an end to that confusion? Well, how about we keep it simple and get rid of all the incorrect targets and zero our sights in 100% on the RIGHT TARGET. If what you actually want is to earn $250,000 a year playing baccarat THAT IS THE CORRECT TARGET FOR YOU.
If Mary or Joe or Fred wants to earn $100,000 a year, or $30,000 then that is the correct target for them. Every player is different and unique.
When you decide that your actual goal is to earn, let's say $100,000 next year, that puts you on the road to ask the right questions, getting a realistic plan in place, working out how much Capital (bankroll) you will need, looking at your knowledge and skills when you play.
What most players fail to understand is this one obvious fact: if you are good enough to earn $100 a day CONSISTENTLY playing Baccarat, then you are good enough to earn $500 - $1000 - $2000 a day or more. All you are missing is a good business mindset, more capital to work with, a well-thought-out plan, and maybe, just maybe a bit of coaching along the way, if you were being smart about it.
WHEN YOU THINK TOO SMALL YOUR BRAIN SHRINKS AND YOU TURN INTO A POTATO - OR AN 80-YEAR-OLD GAMBLER STILL LOOKING FOR THAT BIG PAYDAY.
Don't believe me? Have you been to any casinos and looked at some of the slot-machine junkies out there? If they could earn $100 a day consistently they would be making $36,500 a year. Then they would double that. But they are not. They are still hoping for that $2000 week.
I now stress this point with every Baccarat Masters Student: When it comes to what you want from your playing Baccarat – think bigger – MUCH, MUCH BIGGER. And when you are on your way to that THINK EVEN BIGGER.
Now, this does not mean go and start playing the $50 or $100 $1000 tables. You should know EXACTLY what size table you should be playing at with the bankroll that you have. If you do not know the 100% correct answer to that then you are missing some very, very valuable information. So no! this does not mean you should rush out and start rolling bigger chips.
It means GET 100% FOCUSED ON THE CORRECT TARGET. And never agree with anyone or anything that tries to convince you to chill-out, be humble, it can't be done, it's impossible.
Go for the mountaintop, and be willing to do what you need to in order to get there and to know you had the intelligence, the courage, and the passion to achieve what you really wanted. That's the champion's mindset in one sentence.
I am 100% confident that you will be much more profitable and glad you did so.
Laurence
Copyright 2021