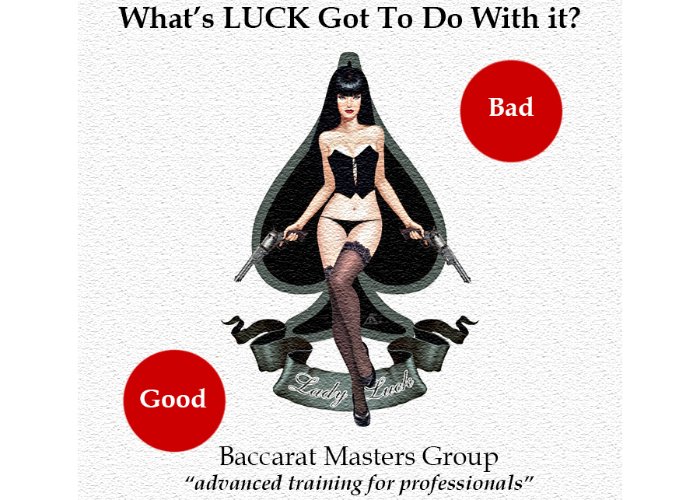 To fully understand the subject of luck in the game of Baccarat, we need to look at a different subject. And that is the subject of CONTROL.
When you start your car to go shopping do you find yourself waiting, hoping, or wondering if Lady Luck will get you there? Or do you just expect you will get there, and home again in time for dinner?
The answer to those questions is obvious, of course. But what is not so obvious is WHY – why does the subject of "luck" never enter our minds when we drive to the store? Yet, for millions of Baccarat players, this subject of luck becomes a central focus the moment they walk into a casino and sit at a Baccarat table.
Well, the reason that happens is that when you get into your car YOU KNOW HOW TO CONTROL THE CAR. You were trained and learned how to start the car, get it moving, stop it when necessary, speed it up, slow it down, and stop it completely, and turn it off until the next time you decide to use it.
In other words, you can CONTROL the car and you can do it at will. You do not need luck to succeed with your task of getting to a store. You have something better. You can control the outcome – you can start the car rolling, get to the store and stop it on your command.
Now here is where this subject gets very interesting. Just imagine for one moment that a child got in your car and suddenly it jumped into gear and away it went down Main Street at 20 miles per hour. And now imagine that child did not know what to do. He did not know about the brakes or how they worked.
Your car would now be A) Out of your CONTROL – and B) Out of that child's control. It would be a speeding bullet headed straight for the heart of Main Street. And you had better start hoping and praying that Lady Luck is on your side at that moment because you are going to need it.
Are you starting to see the connection here? GOOD LUCK AND BAD LUCK IS SOMETHING THAT HAPPENS RANDOMLY AND IS THE RESULT OF A SOURCE EXTERNAL TO YOU.
Do you see that connection? WHEN A PERSON CAN NOT CONTROL SOMETHING THEY START HOPING LUCK WILL CONTROL IT FOR THEM.
It does not matter if it's a car or if it's a game of Baccarat. The player who is depending on "luck" to win and save his or her bankroll has already lost CONTROL of the game. The game is controlling the player now, just like the car took control of the child.
Cars – Baccarat, they are different activities but the principle of control is the same.
It all begins with a little honesty. I know how to control a car or I do not. I know how to control a bankroll, or I do not. I know how to control a game of Baccarat or I do not. When you can CONTROL THE ACTIVITY YOU ARE ENGAGED IN then Lady Luck is a beautiful lady, indeed. She comes, she goes, quite randomly, and it's always nice when she turns a kind eye in your direction.
But if you are betting your bankroll on her kindness you might just remember that kid in that car.
And ask yourself the wise question. Why not just learn where the gas pedal, the windshield wipers the air conditioning, and the brakes are in the game of Baccarat.
Don't bet your future on "Lady Luck." She's is a sly fox with a pistol in both hands.
Laurence
Copyright 2021